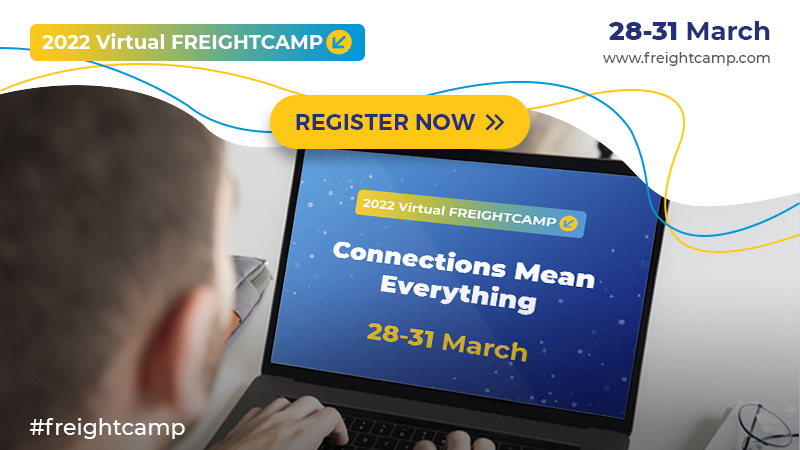 Get ready for Virtual Freightcamp 2022!
We have been brooding on the options for the next Freightcamp for many many weeks now, going backwards and forwards on the plans and postponing our decisions, with the hope that there could be enough stability to propose an hybrid event … unfortunately the situation is worsening day by day in many countries and health authorities are warning of new outbreaks. We hope this situation doesn't last and is not so severe, however while countries are going back to lockdowns and restrictions, it seems imprudent now to announce an in person or hybrid gathering, with high chances of cancellation.
We all look forward to reuniting in person however considering the above, we have decided to wait a bit more before organising a physical event, we hope this will be possible sooner than later. In the meantime, networking cannot stop so let's continue enjoying a virtual experience that works!
Virtual Freightcamp is back and taking place from 28-31 March 2022.
Join us for 4 days of real networking and human interaction, facilitated by excellent technology that helps you make valuable connections with each other and reproduce online our past in person 1to1 meetings.
This will be the 3rd edition of the Virtual Freightcamp, with a successful system and outcome, and adding new features and improvements to elevate the experience.
The live online one2one meetings continue to be in the core of the event and the distribution of the agenda covers the different time zones, giving enough flexibility to all participants for scheduling their preferred meeting times and availability.
Virtual Freightcamp has proved in its 2020 and 2021 editions to be an experience that still provides great networking opportunities in a virtual format. Replacing the in-person event with dynamic virtual meetings and content enables us to bring all members together in a safe and productive way.
We look forward to enjoying a great Virtual Freightcamp and to hosting an in-person Freightcamp again soon!