Freightcamp as any other event, fair, meeting you are planning to attend has a previous, during and post work to do, all of it done well and with the appropriate attention is the best way to perform partnerships and increase business cooperation.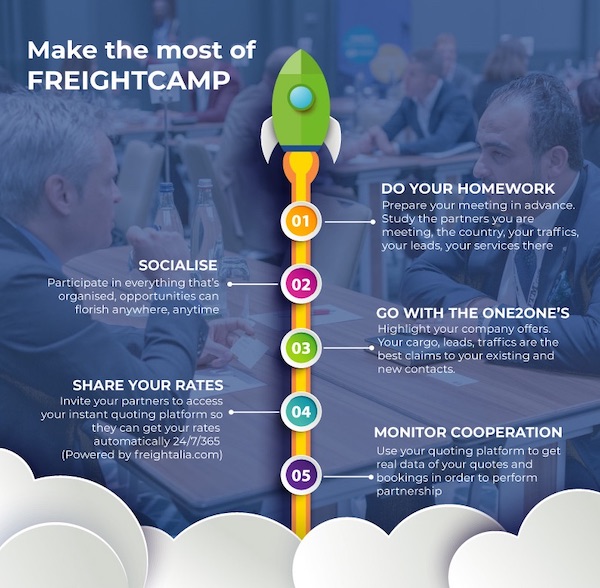 Do your homework
Start preparing yourself in advance. The most important as we get closer to the event is to study well the partners you want to meet and have more potential synergies with you. Analyse what your strengths are in their areas, your current and potential moves, and any relevant particularity in your services that could be relevant for each partner. Consider you will be meeting regular partners and also new partners for first time, your approach should be different in each case.
Socialise
Check well the agenda and activities included in the Freightcamp program, make sure you travel with enough time to participate in everything that's organised.
The 3 days of Freightcamp are much more than the One2One meetings and opportunities can arise at all occasions, don't miss any social activity.
Go with the One2One's
Present your company offers and keep in mind the importance of listening.
You have your business cards, a brochure, a souvenir, and a consistent speech. How can you further attention and interest from your existing and new partners? The best you can do to highlight your company during the meeting is to invite your partners to your new instant quoting platform.
Share your rates
You are meeting agents from worldwide, many have huge time differences with you, for them to instantly access your rates once they are back home can mean a lot.
Set up your freightalia account now and start inviting partners to access your rates. Pls. contact us for more information and let's get your quoting solution ready in hours.
Monitor Cooperation
The meeting ends and work continues, it is time now to materialise the business and dealings discussed. Again, if you have invited your partners to access your quoting system, you can easily monitor how quote requests and bookings flow and how cooperation performs. You will enjoy an engagement with agents as never before.
We encourage you to put these tips in practice! If you need more information pls. contact us.